Standard EN ISO 21420
Standard EN ISO 21420
The EN 420 standard was revised in March 2020 becoming standard​ EN ISO 21420: 2020​. This updated standard newly specifies the general requirements and test methods for glove design and construction, safety, comfort and performance, as well as marking and information provided by the manufacturer applicable to all protective gloves.​
What you need to remember:
- The new EN ISO 21420 additionally applies to :​ mittens, pot holders, arm protector
- Innocuousness : Limited content of DMFa (Dimethylformamide) - not to exceed 1000 mg/kg. Limited content of Aromatic Polycyclic Hydrocarbon (PAHs) in rubber or plastic materials - not to exceed 1 mg/kg.
- Electrostatic properties :
For ATEX zones: new pictogram to be marked on the gloves. The electrostatic properties must be tested in accordance with EN 16350 (test method EN1149-2).
For other electrostatic properties: No pictogram. Test method EN 1149-1 or EN 1149-3 must be used
- Glove sizing: No more minimum length required
- Glove marking: for better traceability of manufacturing batches, gloves must bear the following information: manufacturing date (at least month and year) and if applicable, the date of obsolescence with the appropriate pictogram.
- The following information must be provided by the manufacturer: protection against contamination; warning for gloves containing natural rubber; putting on, taking off and fitting of gloves; comfort and hygiene. And on request: list of substances that can cause allergies (other than rubber). This list is no longer mandatory on the instructions for use.
Please note: the old EU certificates obtained with the old EN 420 standard are still valid.
To contact us
If you would like to ask us a commercial question about our products or if you would like to have more technical information about our gloves and their use, please fill out one of the forms proposed below.


Documentation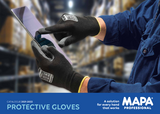 All documents