Standard EN 407 - Thermal
Standard EN 407 - Thermal
Standard EN 407 - Thermal
The EN 407 standard has recently been revised. The main reason for the revision is the inclusion of heat protection articles for private use (kitchen gloves, potholders, etc.) in the new PPE Regulation (EU) 2016/425.
Performance levels do not change!
The main change is the inclusion of a new pictogram :
For flame resistant gloves: no change of pictogram
For NON flame resistant gloves: new pictogram
EU certificates obtained with the former EN 407 standard remain valid.
To contact us
If you would like to ask us a commercial question about our products or if you would like to have more technical information about our gloves and their use, please fill out one of the forms proposed below.


Documentation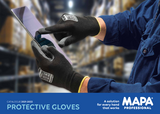 All documents