Titan 328
Gallery
Specific advantages
Exceptionally comfortable fabric lining, and seamless knit
Good ventilation
Excellent grip, due to embossed texture
Previous name: Enduro 328
Applications
Environment
Household waste collection
Public park maintenance
Other industries
Warehousing and receipt of goods
Construction Industry (Masons / Plasterers)
Handling bricks/blocks
Plastering
Local Authorities (Parks and Public Spaces)
Local Authorities (Roads and Highways)
Handling materials when working on the roads
Standards
Product detail
Material
Natural latex
Colour
Orange / Yellow
Interior Finish
Textile support
Exterior Finish
Reinforced grip
Length (cm)
24-27
Thickness (mm)
Size
8 9 10
Packaging
1 pair/bag
12 pairs/box
96 pairs/carton
Operating instructions
Instructions for use
It is recommended to check that the gloves are suitable for the intended use, as the conditions of use may differ from the "CE"-type tests.
The gloves are not recommended for use by anyone sensitive to natural latex, dithiocarbamates and thiazoles.
Put the gloves on dry, clean hands.
Inspect the gloves for cracks or snags before reusing them.
Storage conditions
Store the glove in its original packaging protecting it from direct sunlight, and keep away from heat sources or electric equipment.
Laundering conditions
Caution: inappropriate use of gloves or submitting them to a cleaning or laundering process which is not specifically recommended can alter their performance levels.
Legislation
This product is not classified hazardous according to the regulation (EC) n°1272/2008 of the European Parliament and of the Council. This product does not contain more than 0.1 % of substance of very high concern (SVHC) or any substance included in the annex XVII of the regulation n° 1907/2006 of the European Parliament and of the Council (REACH).
To contact us
If you would like to ask us a commercial question about our products or if you would like to have more technical information about our gloves and their use, please fill out one of the forms proposed below.


Documentation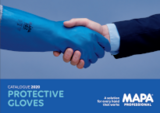 All documents