Definition
Dissipative

Dissipative / (Antistatic) is the ability to dissipate charges.

A dissipative material has the ability to not accumulate electrostatic charges: it dissipates charges. Note: Antistatic (wrongly called) is widely used., nevertheless dissipative is the right word.
---
Back
To contact us
If you would like to ask us a commercial question about our products or if you would like to have more technical information about our gloves and their use, please fill out one of the forms proposed below.


Documentation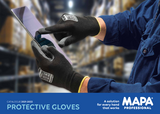 All documents